Let Bless Your H'art help you keep the kids entertained with wholesome, mind-expanding, developmental art camps.  There are many advantages of exposing children to art and creativity at a young age.  We are all born with a creative nature, but it must be nourished in order to grow and remain healthy.
Summer Art Camps are offered Mon-Fri, from 9am-12pm.
We have some amazing discounts available right now for all of our Summer Art Camps!
REGISTER A CHILD FOR ALL 3 THEMED CAMP WEEKS AND SAVE $75!
Register a child for 2 weeks of camp and save $30
Register a child for 1 week of camp and save $10.
Save an additional $10 per week for additional children in the same family. (2nd child gets $85 off 3 weeks, $40 off 2 weeks, and $20 off 1 week).
Each week we will feature a different theme and will incorporate a variety of multi-media art projects.  We will paint canvas, hand build with clay, use different techniques for pottery painting and create tile mosaics.  5-8 projects will be completed weekly based upon time needed to complete each project.
The New York Center for Arts Education lists the many benefits of art for our children
Your kid learns to think creatively, with an open mind
Your kid learns to observe and describe, analyze and interpret
Your kid learns to express feelings, with or without words.
Your kid practices problem-solving skills, critical-thinking skills, dance, music, theater and art-making skills, language and vocabulary of the arts
Your kid discovers that there is more than one right answer, multiple points of view
School can be fun – playing can be learning
Your kid learns to collaborate with other children and with adults
Arts introduce children to cultures from around the world
Your kid can blossom and excel in the arts.  Even with physical, emotional or learning challenges, can experience success in the arts.
Arts build confidence.  Because there is not just one right way to make art, every child can feel pride in his or her original artistic creations.
Arts build community.  Schools with a variety of differences can celebrate the arts as one community.
 
Call the studio at 502-642-5330 or email us at:  blessyourhart@outlook.com for more info.
Stop by the studio during regular business hours to register.  A registration form may also be emailed upon request.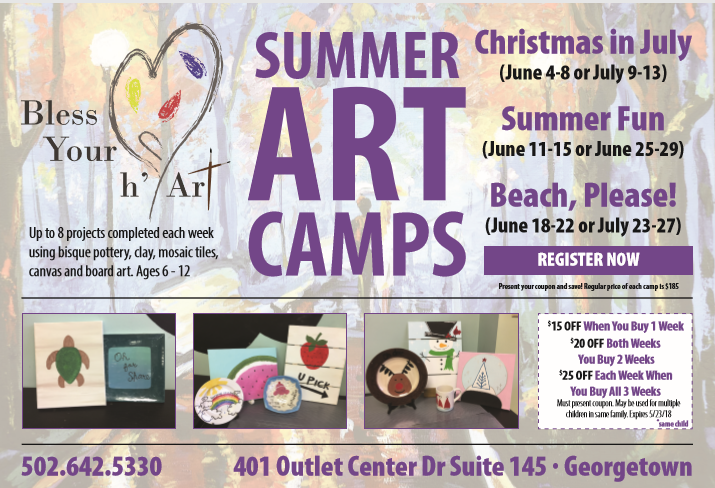 Day camps will feature 1-2 projects from that week's theme.
6/4-6/8  Christmas in June
6/11-6/15  Summer Fun
6/18-6/22  Beach, Please
6/25-6/29  Summer Fun
7/9-7/13  Christmas in July
7/23-7/27  Beach Please