It's true.  Lularoe is wonderful.  I was a skeptic at first… I mean, I had my yoga pants – why do I need leggings?  Then I broke down and got some. Now I'm kicking myself for waiting so long!!
Lularoe is a clothing company that was started 3 years ago by a mom who wanted to create a comfortable, affordable, and stylish clothing line.  The company has been booming in recent months and is literally "popping up" all over!
If you're looking for Lularoe in a local shop you're going to miss it – think Tupperware!  Just like my mom and her friends enjoyed Tupperware parties in the 70s, ladies are enjoying Lularoe parties all around the US both in home and online.  Lularoe retailers are moms, college students, and families and new Lularoe consultants are joining daily.
I have found this shoe organizer to be an awesome way to organize my leggings!  CLICK HERE to link to buy one!  (Amazon Affiliate Link)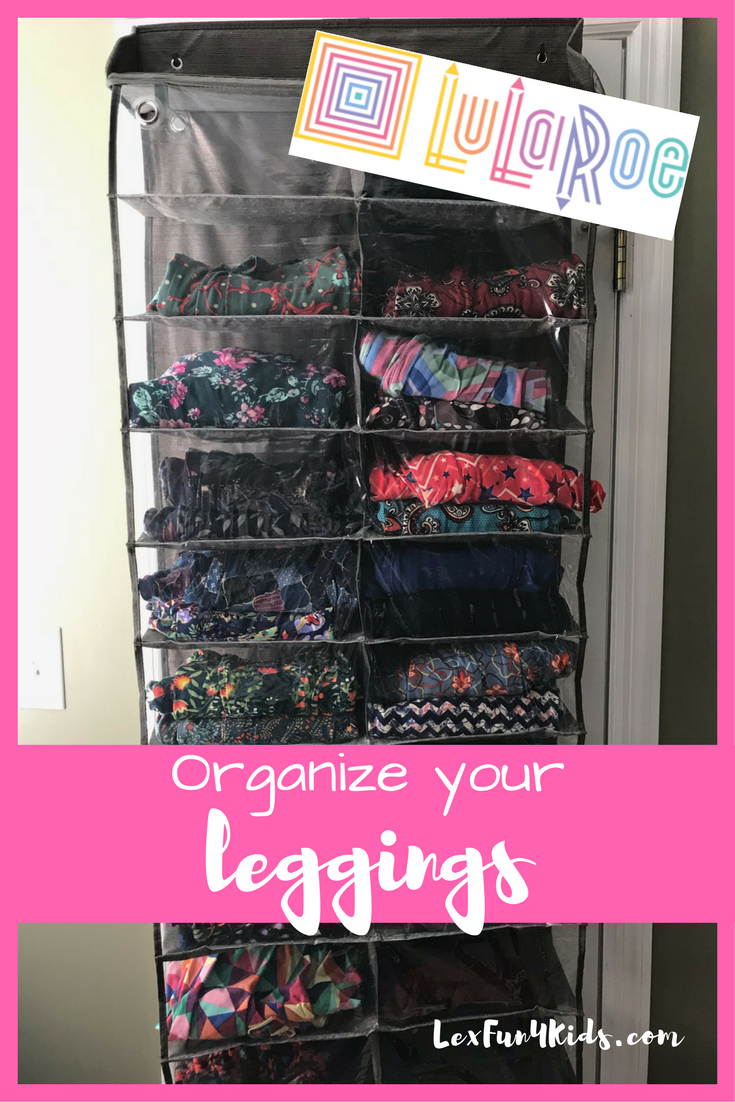 ---
Here's 5 Reasons THIS mom (and many others) LOVE Lularoe!
Comfort!
LuLaRoe is SUPER comfortable!  I've been a stay at home mom since I left teaching 11 years ago.  I'm constantly chasing kids, up and down stairs doing laundry or cleaning, driving back and forth between home, ball parks, school, church, and the list goes on!  I'm all about being comfy and LuLaRoe is the definition of comfortable.  The leggings really are 'buttery' and loved by all!  The shirts and dresses are made in a few different fabrics and are also super comfy.  Once you go LuLaRoe you won't go back.  You're warned!
Style!
LuLaRoe gave me a new 'mom style'!  Of the last 11 years as a SAHM I think 10 of those years were spent in yoga pants and t shirts.  I finally have a style that is comfy and cute!  There are leggings, shirts, dresses, skirts, cardigans and more.  There are also thousands of fabric patterns.  You can mix and match them and create some super cute outfits.  A pair of boots in the winter or sandals in the spring and your leggings look awesome with a simple shirt or dress.  Watch for 'unicorn' pieces that are unique like owls, horses, pigs, peacocks, dogs, holiday prints, and thousands more!
Shopping is FUN!
LuLaRoe shopping is always fun because you never know what you're going to get. LuLaRoe makes only a certain number of an item in any specific pattern.  Those are distributed across the country to more than 25,000 consultants so you never know what each consultant is going to get.  You can find dozens of patterns from one seller and a dozen different ones with someone else.  Plus, you can shop at home!  Each LuLaRoe consultant sells their inventory in different ways so find a few to follow on Facebook and watch for their sales.  Many times they will post photos in albums (sorted by style/size) – you just comment SOLD, they invoice you, then ship!  Other times they will hold LIVE sales using Facebook live and you can comment in real time on pieces you want.
It Fits!
LuLaRoe is made to fit SO many sizes!  Leggings come in two sizes (One Size for 2 – 12) and Tall and Curvy (12 – 22) and most other pieces come in XXS – 3XL and even KIDS and Mens!  I love that being 5'9″ I can find leggings that are actually long enough and shirts that do cover my booty!  You can size up or down depending on if you're looking for a snug fit or a loose fit.  I suggest going to a pop up sale (where a consultant brings her inventory to sell) and trying on all the styles in different sizes so you'll know what fits you best.  Then when you shop online for things you'll know what size you're looking for.
Price!
LuLaRoe isn't crazy expensive.  For something you can wear at home eating ice cream watching a rom-com to out on the town paying $25 – $75 for a piece isn't so bad considering how versatile it is.  I could cut out half of my wardrobe now and just live in LuLaRoe and be good to go!  I've found some other local boutiques (Adorabelle's and Em+Me) that sell great pieces to dress up my LuLaRoe.  A couple blanket scarves and this winter I've actually enjoyed going out all 'dressed up'!  Good bye yoga pants!!
---
To find a retailer CLICK HERE or just type in LuLaRoe on Facebook 🙂
For more information on the business of LuLaRoe check out this article from Forbes.com