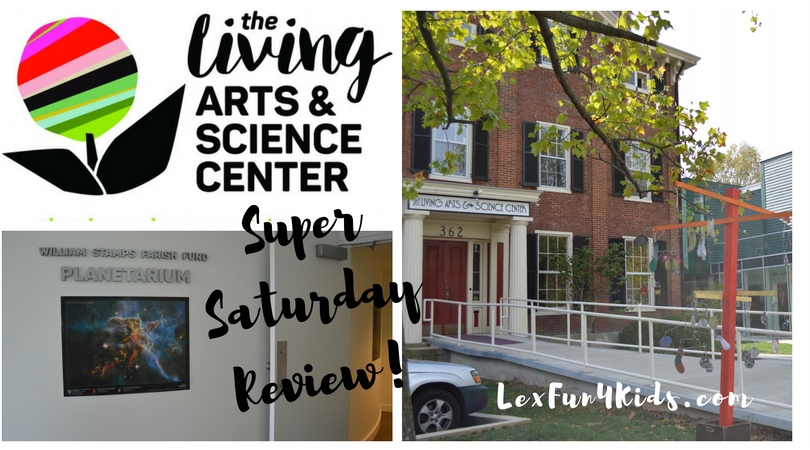 The Living Arts and Science Center is a wonderful addition to the downtown Lexington area.  If you haven't ever explored this special place a Super Saturday event is a perfect opportunity for you and your family to enjoy fun as well as learning!
Discovery Saturdays are held on the 4th Saturday of the month throughout the year (exceptions may happen due to holidays).  It's a great day for a great price – it's hours of fun!
The LASC just underwent a huge renovation and addition project and now features much more space.  They have new classrooms, a new permanent planetarium with shows rotating throughout the year, small gift shop, art gallery and more!
Discovery Saturday is held from 10 am – 2 pm with planetarium shows at 11:00 am and 1:15 pm.  You can get your planetarium ticket for the show at the front – be sure to grab one for the show you'd like to see when you arrive because space is limited.  They also just added new workshops available for each event. Register early for those as well!
The current exhibit is on loan from NASA called Out of this World – A Space Adventure.  It features great hands-on activities so you can learn more about space exploration and the world beyond Earth.  You can also explore the other parts of the center while you are there including the art gallery, art exhibits, live animals, and more.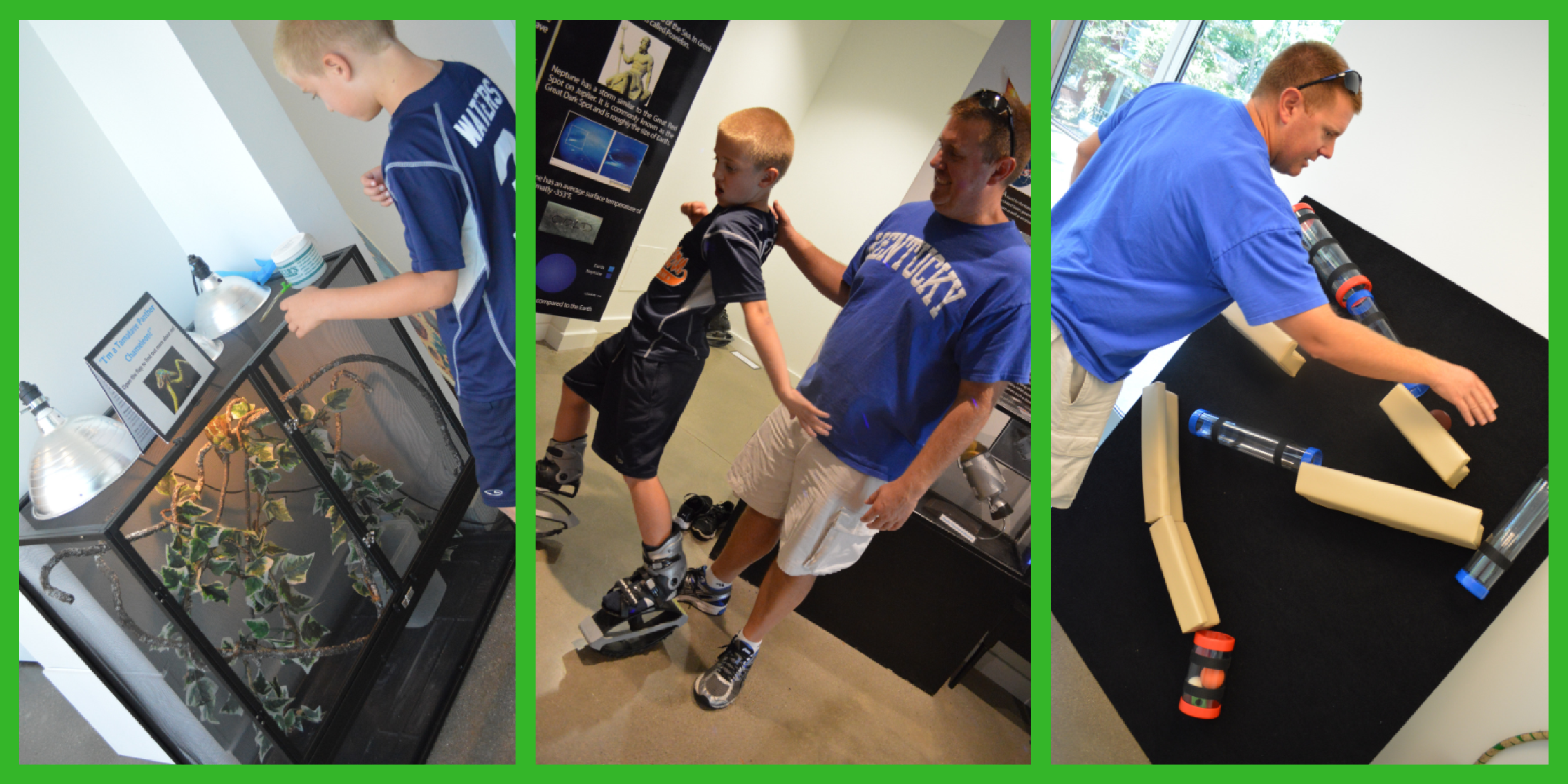 5 Cool Things at Discovery Saturday!
 The featured exhibit!  Enjoy hands on out of this world fun with space boots, a space capsule, space suits and more!

Play!  Get your creative juices flowing with cool educational games and activities for all ages to enjoy.

Art exhibits!  Check out all the artwork around the facility by local students as well as featured artists.  You will see many different mediums, styles, and more.  Great for discussion!

The outdoors!  Enjoy a walk around the grounds.  There are outdoor art displays, beautiful landscaping, a water feature, and more.  It's such a fun place for a picnic or a short walk.

Stars and planets of course!  The new planetarium is a cool way to see the night sky.  With special shows that change with different events be sure to go back and see different shows.  You can grab a chair or lay on the floor and gaze up at the show.  This one is great for all ages!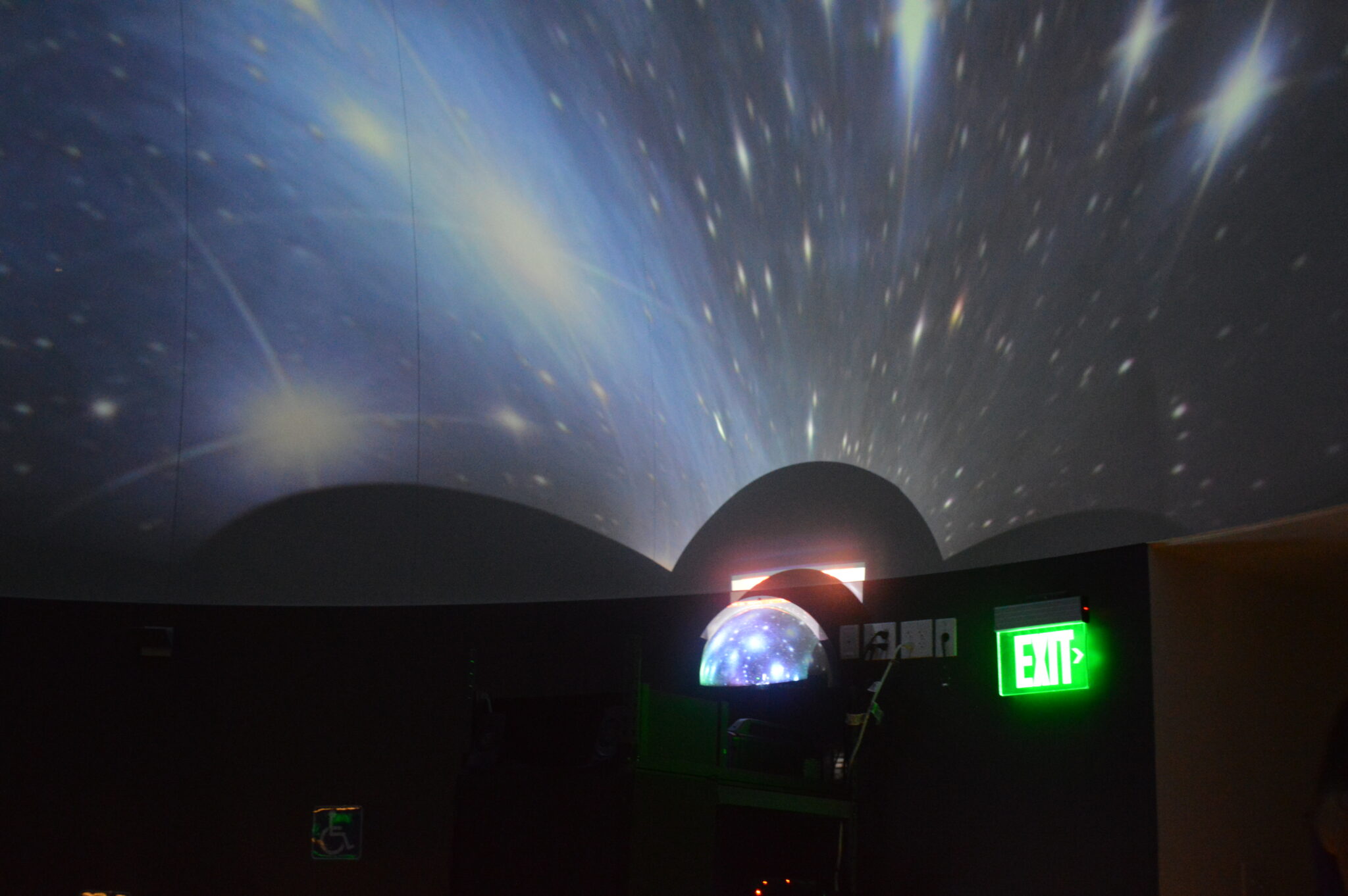 NEW Ticket options for Discovery Saturday!
EXPLORE the Living Arts & Science Center with EXPLORER BANDS
$4 per person ($3 members)
Kids of all ages will enjoy dressing up as astronauts, blasting off in the Orion replica space capsule and viewing real space artifacts on loan from NASA in our science exhibit: Out of this World – A Space Adventure. Explorers get hands-on in our makers space with collaborative projects such as: building a city, learning about circuits or creating space aliens. Take in rotating art exhibits in our four art galleries and watch a starry planetarium show in Lexington's only planetarium. See below for planetarium shows and times.
EXPLORE & CREATE
Add a half-day workshop with CREATOR BANDS
All the benefits of the Explorer Band PLUS and AM or PM Workshop
$10 per person ($9 members)
Great new experiences with no equal in Lexington. Each Discovery Saturday will feature 2 half-day workshops that friends and family of all ages can enjoy together. Workshop topics change every Saturday so be sure to pre-register to save your spot. Drop ins are welcome as space allows.
INTRODUCTORY OFFER
Creators bring a friend!
BUY 1 Creator Band at $10 and each additional Creator Band is just $8 ($2 per band savings, no limit)
Member discounts apply. Offer valid through May 1, 2017
---
April 22, 2017 Discovery Saturday
Planetarium Show 11:00 and 1:15
Join Big Bird and Elmo as they explore the night sky with Hu Hu Zhu, a Muppet from "Zhima Jie," the Chinese co-production of Sesame Street. Together they take an imaginary trip from Sesame Street to the moon, where they discover how different it is from Earth. The friends learn about the Big Dipper, the North Star, the Sun, and the Moon. They also journey to Zhima Jie to learn about the similarities in our view of the sky.
One World, One Sky is a brilliant spectacle of light and color as the furry friends watch the stars twinkle over Sesame Street. Children attending the show can interact as they watch, drawing constellations and counting the time it takes the sun to set. The show aims to nurture a child's natural sense of wonder about the night sky while forging cross-cultural connections, and bridging kids across nations through a common bond in learning about the sky together.
Runtime: 27 min
Suitable for: ages 2-6
Trailer: Click here to see a trailer for this show
Family Workshops
AM WORKSHOP 10:30 – NOON
354. Backyard Gardening with Maggie Rogers
As a special offering for Earth Day, this class introduces heirloom backyard gardening basics, and gets you set up for a simple spring garden that anyone can maintain. Bring your family and learn the fun possibilities together.
CLICK HERE TO REGISTER
PM WORKSHOP 12:30 – 2:00
355. Plastic Bottle Flowers with Sonja Brooks
The common plastic water bottle or soda bottle is easily transformed into an exotic flower when you learn a few simple cutting, shaping and coloring techniques. Come make a small bouquet for yourself or to give as a gift. This workshop offers the added bonus of honoring Earth Day by doing your part and learning the fine art of re-purposing materials!
CLICK HERE TO REGISTER
---
Upcoming Events (Click for more info on the date's events)
May 27th
---
DID YOU KNOW!!??
The LASC offers Discovery Thursday events as well (held on the 1st Thursday of the month – $2/suggested donation)
The LASC offers birthday parties!!
The LASC offers No School Classes and Camps held throughout the year (spring break, holidays, summer)
Click HERE for more information on all The Living Arts and Science Center has to offer.