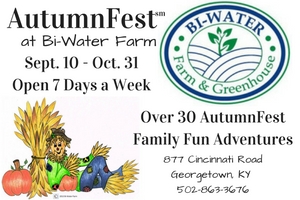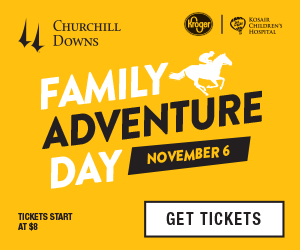 Your #1 listing of all 2016 Fall Festivals and Halloween Fun in Central KY!!
If you'd like your event listed please email [email protected]
HarvestFest at Shaker Village
September 10 – 11, 2016
Celebrate all things apple and kick-off the fall season with a down-home harvest celebration for the entire family! Take a hayride, climb hay stacks and compete in the farm Olympics. Shop for honey, breads and jams at the Harvest Market, then meet the farm animals and tour the apple orchard. Enjoy live music, food trucks and much more!  Included with admission.
AutumnFest at Bi Water Farm
Daily from September 10 – October 31, 2016
Friday – Saturday 9:00 am – 9:00 pm,  Sunday noon -7:00pm,  Monday- Thursday 9:00am – 6:00pm
General Admission.  $10 plus sales tax.       2 years and younger are free.
Allows all day access and as many visits as you wish to all of the following Adventures.  Hayrides, Spooky FarmHouse,  Enchanted Barnyard, Pirates Cove, Trike Track, Barnyard Babies, Lost Pumpkin Mine, li'l Pumpkin Play Patch, The Bird House, Bunnyville, Cowboy Corral, Billy Goat Mountain, 5 Acre Corn Maze, Sky High Slide, People Spinners, Bi-Water Ball Park, Pumpkin Vine Zip Lines, Bounce Around Corral, Chutes & Slides.
Boyd Orchards
Apple Festival  September 10 – 11
Scarecrow Festival September 17 – 18
Ole Cider Days Festival September 24 – 25
Fall Festival October 1 – 2
Pumpkin Festival October 8 – 9
October Festival October 15 – 16
Harvest Festival October 22 – 23
Last Fest October 29 – 30
Evans Orchard
Apple Festival September 10 – 11
Harvest Festival  September 17 – October 31  (Weekends)
Weekends 9:30 am – 6 pm Saturdays, Noon – 6 pm Sundays
Daily hours for the play area and barnyard Tuesday – Fridays 9:30 am – 5:30 pm
Mary Queen of the Holy Rosary Fall Festival (Lexington)
Friday, September 30, 2016  4 pm – 11 pm
Saturday, October 1, 2016  2 pm – 11 pm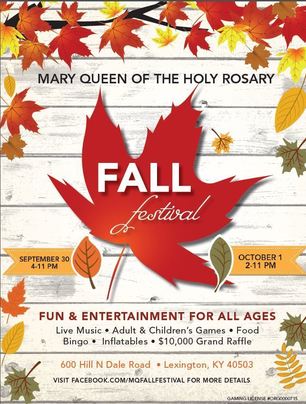 South Elkhorn Christian Church Fall Festival
Saturday, October 8, 2016  9 am – 4 pm
Over 150 booths presenting crafts of all kinds. Live music from 10 AM-2 PM. Admission and parking are both free.
McConnell Springs Little Goblins Galore!
October 15, 2016 – 1 pm – 5 pm
Little Goblins ages 12 and younger are encouraged to dress-up and enjoy a day of trick-or-treating without all the scares.  (Cost $5.00 per child, adults free)
Party for the Pumpkins at the Arboretum
October 15th, 2016 – 2 pm – 6 pm
$5
Georgetown Haunted Swamp
Saturday, October 15, 2016  6 pm – 8 pm
Sssssssspooktacular at the KY Reptile Museum
Saturday, October 15, 2016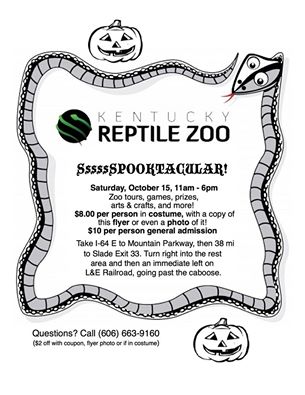 Halloween Fest
Fort Boonesborough State Park
October 22, 2016
Come early and join us for our 22nd annual Halloween Party.  This will be our biggest yet as we celebrate with THIRTEEN days of fun and frights. We will have scheduled times for pirate putt-putt, camper decoration contest, costume contest, ghost walks, bean supper, pancake breakfast, Halloween parade, crafts, Pumpkin Express hayrides, live entertainment, trick or treating and lots, lots more. THIS EVENT IS FOR REGISTERED CAMPERS ONLY. EACH CAMPER WILL RECEIVE TWO GUEST PASSES THAT MUST BE DISPLAYED IN CAR WINDOW FOR ADMITTANCE. For more information please call (859) 527-3454 or email [email protected]
Halloween Lights Drive Thru
Fort Boonesborough State Park
Oct 7 – Oct 23, 2016  /  Dusk – 9:30 pm on weeknights, 10:30 pm on weekends  (Peak days are the 21st and 22nd)
Enjoy the sights, sounds and scares of over one and one half miles of Halloween lights and displays from your car. Play pirate miniature golf with Halloween music and thousands of lights. Concessions and snacks available.  $5 donation goes to the Fort Boonesborough Foundation. For more information please call (859) 527-3454 or email [email protected]
Bluegrass Railroad Museum in Versailles
Sat and Sun in October – Pumpkin Patch Trains (pick your pumpkin)
Friday and Saturday,  Oct 21 and 22 – Halloween Haunted train ride (8pm)
Friday and Saturday,  Oct 28 and 29 – Halloween Haunted train ride (8pm)
$5 After 5:00: Halloween Festivities at Shaker Village 
October 21 & 22, 2016   5 pm – 8 pm
Bring the kids for a fun and spooky evening trek along the Village road — gathering treats and maybe even a trick or two! Take a hayride ($5) and Spirit Stroll, then warm up around the huge bonfire. Enjoy live music, food and drink, kids' crafts and a selfie costume contest.
Halloween Storytime at Barnes and Noble
Saturday, October 22, 2016  11 am
Beep! Beep! It's Halloween! Little Blue Truck is back and picking up his animal friends for a costume party. And in I Need My Monster, a unique under-the-bed story, Ethan checks under his bed for his monster Gabe and finds a note from him instead: "Gone fishing. Back in a week."
Hope Over Jessamine Fall Fest (Downtown Nicholasville)  11 am – 8 pm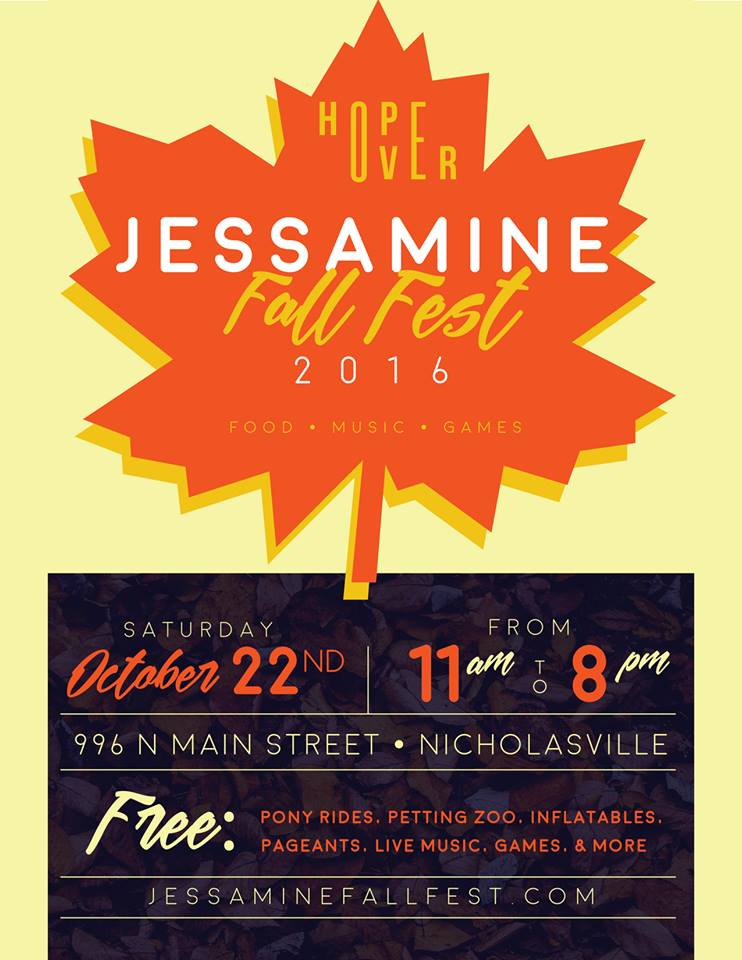 Georgetown "Thrilled to Give" Thriller Parade
Saturday, October 22, 2016  6 pm – 9 pm
Spooky Treasure Hunt at the Headley-Whitney Museum
October 22, 2016  1 pm – 3 pm  $10
Come in costume for the Headley-Whitney of Art's annual Spooky Treasure Hunt! We will have Halloween crafts and plenty of tricks and treats for the little ones to find. Kids will love searching the gorgeous fall museum grounds.
Pre registration is preferred.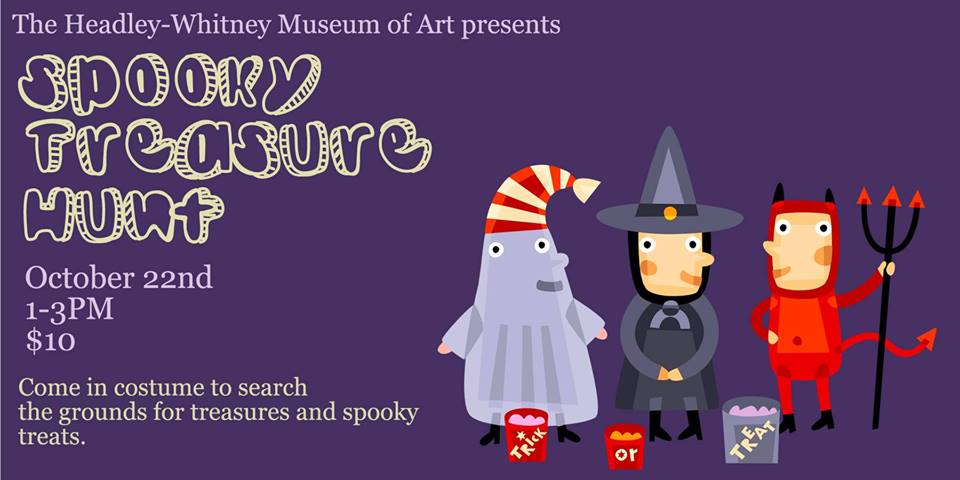 Haunts and History Downtown Walking Tour (Through the Lex Public Library)
Tuesday, October 25th, 6:30PM to 8:30PM
Thursday, October 27th, 6:30PM to 8:30PM
Join local historian Spence Millard for a walking tour around downtown Lexington to discover some of our city's interesting history and haunted spots. Meet in the first floor rotunda, wear comfortable shoes, and bundle up if necessary. It's going to be a spooky time! Family friendly, registration preferred.  For adults, families, seniors , Registration Required
PumpkinMania at Transylvania University
Carve Pumpkins  Sunday, October 23, 2016  12 pm – 6 pm and Monday, October 24, 2016 9 am – 1 pm
Pumpkin Lighting  Tuesday, October 25, 2016  (6 pm – 7 pm Trick or Treat) Lighting at 7 pm
Kids are encouraged to wear costumes as we offer Trick-or-Treating, games, and music. Family fun for all!
The pumpkins will continue to be lit each night through Halloween.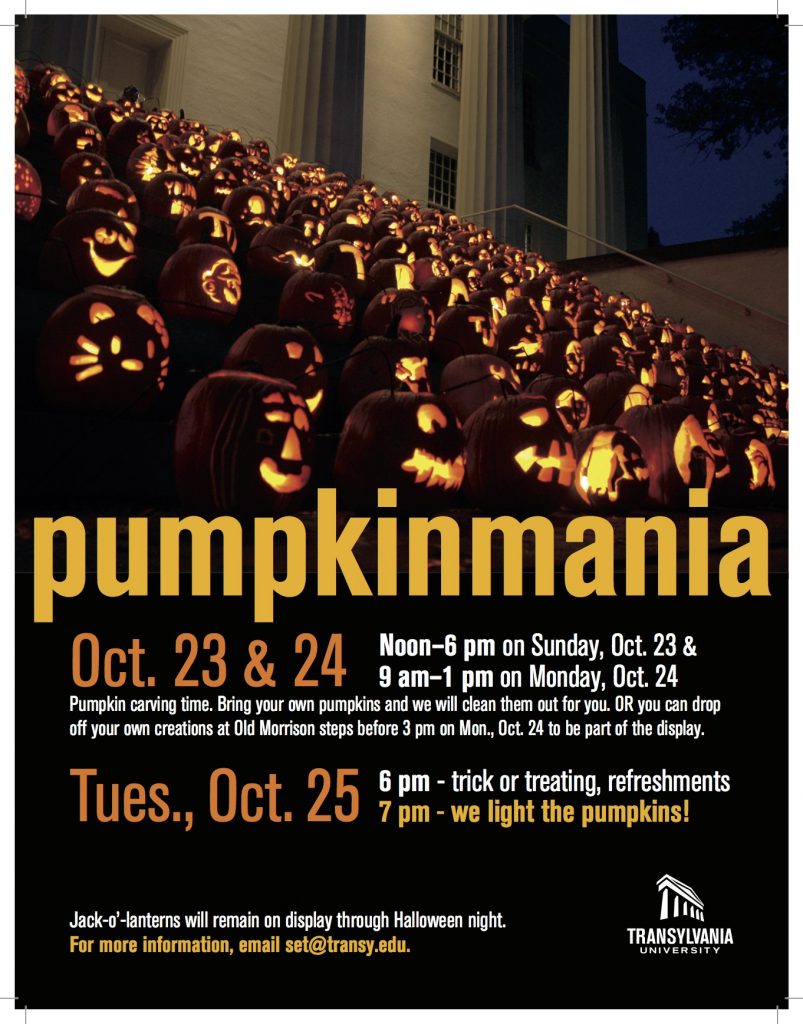 Pumpkin Painting Party
A Cup of Commonwealth
Tuesday, October 25, 2016  5 pm – 8 pm
Join On The Move Art Studio and A Cup of Commonwealth for some pumpking painting fun! Free hot chocolate, pumpkins, and pumpkin decorating for all kids–Adults, you can get in on the fun too 🙂  We'll be showing a Halloween movie and having a blast so come on down. This is a pop-up event so you can come in and leave any time you wish.
Halloween Hoe Down
Downtown Richmond
Thursday, October 27th 2016  6 pm – 8 pm
The Halloween Hoe-Down is a family friendly event designed for children ages 10 & under! The festival will begin at 6:00pm and continue until 8:00pm. Free Activities include Kids Games and Prizes, Pumpkin Painting, Contests, Inflatables, a Petting Zoo, Walk Around Characters, Face painting, and More!  A Special "Thank You" goes out to the Eastern Kentucky University Recreation & Parks Administration REC 460 Class for helping to organize the games, decorations, and contests this year. They will be using this as a service learning project.  Thank you to Moberly Karate For Kids for helping sponsor this event.  For more information, please contact Brittany Toombs at [email protected] or 859-623-8753.
Pumpkin Painting at Lucky's Market
Friday, October 28, 2016  4 pm – 7 pm
Bring your kiddos in to paint mini pumpkins- we'll supply the pumpkins, paint markers, and memories! This event is free, but our pumpkin supply is limited- please let us know you're coming so we know how many pumpkins to have on hand!
Winchester Halloween Festival
Friday, October 28, 2016  6:30 – 9:30 pm
Come spend a scary Halloween at the College Park Gym. The facility is completely transformed into a haunted house and haunted swamp. All those who dare, better beware!  $8
Sunrise Trackside Halloween Edition at Keeneland
October 29, 2016  7 am – 1 pm
NoLi Halloween Carnival
October 29, 2016  3 pm – 6 pm
Minton's 360 – North Limestone
Join us for ghoulish games, freaky fun, and frightening food!  FREE EVENT for ALL AGES  Our neighbors at The Illustrated Barber will be offering free haircuts for kids under 18 (first come, first serve) As well as hair braiding and face painting!  Call Ashley or Shelia at 859.948.1874 for more information.  *We are looking for volunteers to help with games, art projects, set up, clean up, and more.
Downtown Lexington Thriller Parade
Click the above link for registration info
Saturday, October 29th – Raindate Sunday, October 30, 2016
Robert F. Stephens Courthouse Plaza
Main Street (Quality to Mill Street)
6:30 p.m. – Dance Showcase (Courthouse Plaza)
8 p.m. – Halloween Parade
8:30 p.m. – Thriller!
Salato Wildlife Education Center Halloween Walk With the Animals
Saturday, October 29, 2016
Put on your costume and join us at the Salato Center from 12 pm to 5 pm for the best trick-or-treat experience in town! This kid-friendly event will include a hay bale maze, "Creatures of the Night" exhibit, face painting and – of course – plenty of candy! Kids will each receive a Passport, which they will get stamped at each exhibit after receiving a treat (or trick!). Our staff and volunteers will be on hand to answer your questions, and all of our wildlife will be present and waiting …for you! Admission is $5 per person. Annual membership holders and infants too young to participate are free! No registration required. The Salato Center will be closed until 12 pm on day of event.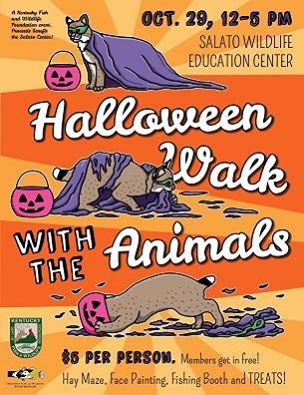 Ashland Elementary Fall Festival
Friday, November 4th, 2016  6 pm – 8 pm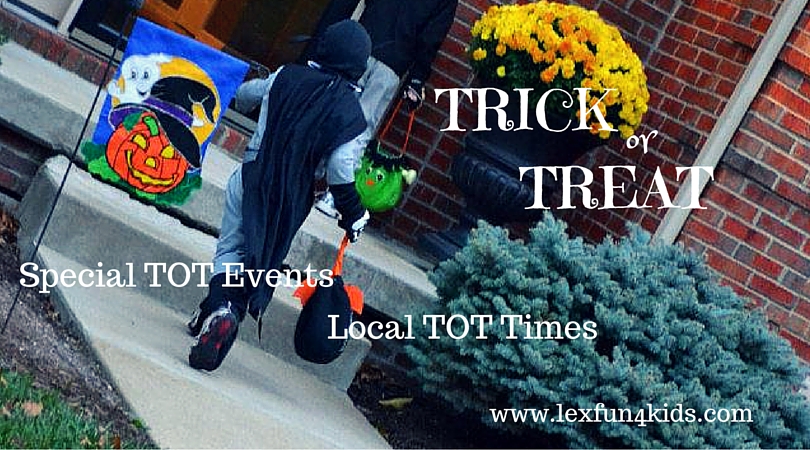 TOT Events and Times Coming Soon!