MORE INFORMATION FOR 2017 COMING SOON!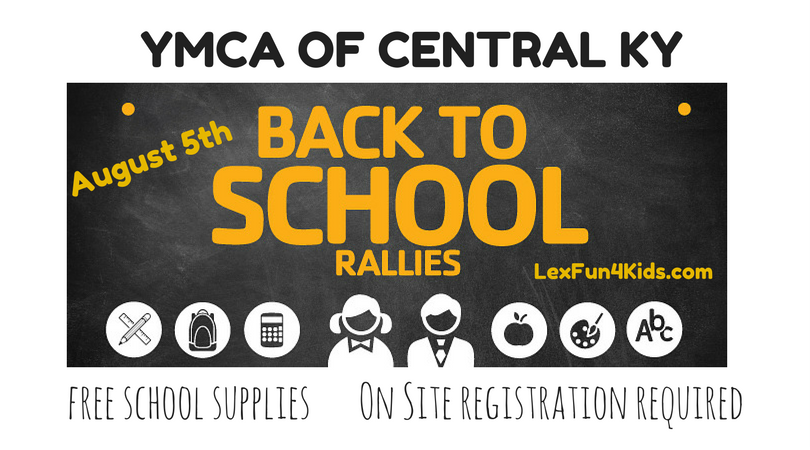 Each year, the YMCA of Central Kentucky, in collaboration with 15 Lexington neighborhoods, hosts the annual Lexington Neighborhood Back to School Rallies. Thanks to the generosity of our 2016 sponsors and partners: Fayette County Public Schools, Kentucky Utilities, Anthem BlueCross BlueShield, Athem BlueCross BlueShield Medicaid, United Way of the Bluegrass, PNC Bank, Rotary Club of Lexington, Passport Health Plan, LFUCG, Fifth Third Bank, Bank of Lexington, BB&T, Cumberland Valley National Bank, First State Financial, Kentucky American Water, Kinkead & Stilz, PLLC and LBX Company.
These free rallies provide elementary, middle and high school children with backpacks and school supplies. Each neighborhood distributes supplies for all grade levels. The Back to School Rallies program is an initiative of the Y, which has served as the central coordinator of this partnership since 2011. Since that time, more than 35,000 children have been served through this important program.
Children must be with a parent or guardian in order to receive supplies.
Each neighborhood solicits its own grassroots support and plans its own food and events.
The goal of this initiative is to prepare children for school and to unify our neighborhoods for even greater self-advocacy and community planning. Neighborhoods build bridges with schools, churches and local businesses by establishing relationships that they can utilize in the future for a variety of purposes.
Volunteer opportunities are available during the week leading up to the rallies and on the day of. For more information, contact Jessica Berry at [email protected].
Schedule of events:
9 a.m. – 11 a.m.     Backpack registration and activities at all locations
10 a.m.                  Press conference at Douglass Park
11 a.m.                  Food provided at Douglass Park
Noon                      Backpack distribution and activities (locations listed below)
1 p.m. – 4 p.m.       Community Pool Party at Douglass Park
Locations:
Coolavin Park, 550 E. Sixth Street
Douglass Park, 726 Georgetown Street
Gainesway Center, 3460 Milano Road
Gardenside Christian Church, 940 Holly Springs Drive
Gethsemane Lutheran Church, 2185 Garden Springs Drive
Green Acres Park, 1560 LaSalle Road
Imani Family Life Center, 1555 Georgetown Street
Lou Johnson Park, 190 Prall Street
Marlboro Park, 1870 Benton Road
Russell Cave Church of Christ, 1841 McCullough Drive
Shiloh Baptist Church, 237 East Fifth Street
Speigle Heights Park, 424 Speigle Street
Total Grace, 1313 N. Limestone Street
Valley Park, 2077 Cambridge Drive
Woodhill Park, 457 Larkwood Drive